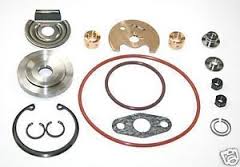 MHI 14B 16g 20g Turbo Rebuild Kit Fits:
Evo X Turbos
MHI Genuine 14b,16g, 18g, 20g, FP Green, Red, Black MAP, Tomica Racing, Blouch, Turbos
NOT for Evo 4-9 Turbos, (Visit Here for Evo 4-9 Turbo Rebuild kit)
Subaru MHI 16g and Upgraded Turbos
Hahn Racecraft Turbos
Tomei Turbo
This is an Upgraded Rebuild Kit that is Needed for Running Higher Boost Levels. We Have Customers running 34 PSI on This Rebuild Kit  with the Largest Frame Turbo and Making Over 600 HP and Holding Strong!! Here Is Our Amazon Listing If You Need to Purchase:
Here are the Details of what Our Rebuild Kit Includes:
1 upgraded thrust bearing
1 18mm thrust collar
1 18mm thrust spacer (factory is 14mm)
2 journal bearings
1 front seal
1 rear seal
oring for compressor housing
oring for inside the turbo
2 bearing retaining clips
1 stainless steel rear heat shield
1 c-clip to hold in the front plate.
1 oil return gasket
1 bolt and nut for the vband clamp
1 compressor nut
1 oil deflector
NOTE: **************THIS KIT DOES NOT WORK WITH KNOCKOFF TURBOS SUCH AS CX RACING OR GODSPEED!!!!!************ ONLY THE TRUE MHI TURBOS!!!!!
NOTE: This Rebuild Kit is for Standard Rotation Only (Evo 1 -3 Evo X Turbos). This Kit is not for Evo4 – 9 Turbos Because They Use a Reverse Rotation Thrust Bearing. We also Sell the Evo 4-9 Rebuild Kit Here!
Comments
comments