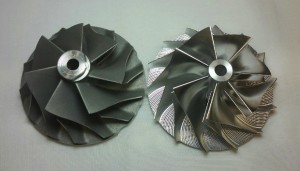 Introduction HX40 Super Billet Compressor Wheels!
Weighing in at 127 Grams, in the Right Corner! Weighing in at 147 Grams in the Left Corner!
Results: So Far We Have Seen 79 lb per min at 40 psi With this Billet Wheel on an HY35, Which We Machined for a HX40 64 x 76mm Turbine and the 60 x 86 HX40 Billet Wheel 4015C. (Keep in Mind the HY35 Turbo Only has a 9 cm­2 Turbine Housing.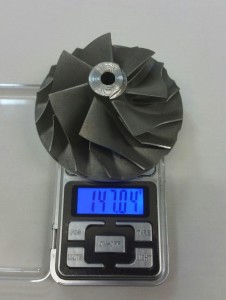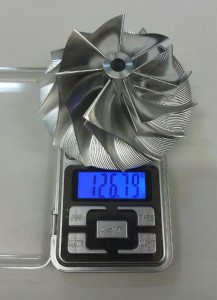 Hear are the Features of This Compressor Wheel:
60mm x 86mm x 89.5mm  Extended Tip
Slim Hub matches the Compressor nut dimension
Fits HX40 60 x 86 7 Blade as a Direct Replacement
Fits HE351, HE351VE, HX40 Super As a Direct Fit
Results Logged 79 lb Per Min at 40 Psi on a 2.0 4g63T
Balanced and Ready To Install
Machined From Solid Aluminum
Light Weight!
Here is a link To Our Ebay Listing If You Would Like to Purchase This Wheel: