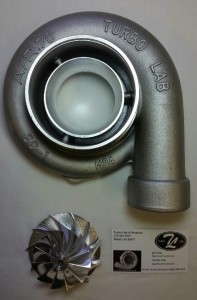 We Now Offer Turbo Lab Garrett GTX3582R Compressor Housing + Wheel!
These Compressor Housings and Wheels are able to Be Used on Ball Bearing and Journal Bearing Turbo Chargers!
This Compressor Wheel + Housing Combination is Capable of 750 + HP with the Proper size Turbine Housing. (T3 1.06) (T4 1.15)
GTX3582R Compressor Housing + Billet Wheel :
Ball Bearing or Journal Bearing Upgrade (if you have a To4S 2mm Compressor Plate for journal bearing)
Brand New Turbo Lab TO4S Compressor Housing
4″ Inlet Anti-surge
GTX3582R Billet Compressor Wheel Details :
Brand New GTX3582R Billet Wheel
Compressor Wheel is Balanced and Ready to Install (for journal Bearing) Cartridge Balancing Required for Ball Bearing Install
Compressor wheel dimensions 62.55mm x 82.36mm x 88.26mm
6.65 mm Tip Height 11 Blade
6.35mm Shaft Bore
60 degree trailing Angle
2.35mm Superback
Note: We Can Build You a Complete Ball Bearing Turbo If You Want. If You Want Us to Build You a Complete Turbo, Contact Us. We Sell the Compressor Housing and Wheel Package Below.