Learn What Size External Wastegate Size To Use
The Size of the External Wastegate That you Should Use Depends on 2 Major Factor Which are:
What Size Engine Do you Have (2.0 liter 4 cylinder, 2.5 liter 6 cylinder, v8 4.4liter etc)
What Size Turbo You are Using
Here is How You Use This Information to Determine Which Wastegate You Need to Run:
In Most Cases the 38mm Wastegate Is Sufficient to Control Boost for 4 cylinder  and 6 cylinder engines, if you are running a 60mm turbo or smaller such as GT35r. Sometimes You May See 4 cylinder engines using a very Large turbo and 2 external Wastegates. The Reason Why is Because Your Engine Needs 2 Wastegate or 1 Larger Wastegate is Because When You Run a  Turbo that is 67mm or Larger You Need a Wastegate(s) that can Properly Control Boost Levels at Higher RPM Because of the Increased Amount of Air Flow.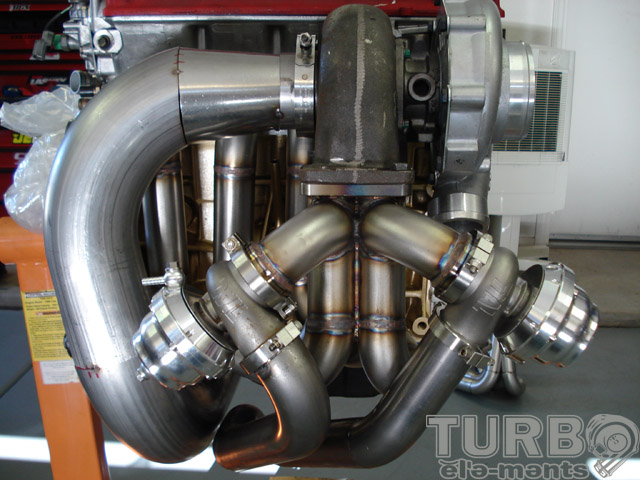 Another Great Example Is If you have a V8 Engine, You need to Run a Large Turbo Even if You are Look for a Small Horsepower Gain, Because You Need to Have a Turbo that will Outflow the Engine at Higher RPM, so the Turbo Doesnt Become a Restriction to the Engine. With a V8 Engine You should be using 1 50mm External Wastegate or (2) 38mm Wastegates. Often the Reason Why People Use (2) External Wastegates is Because They are Using a Twin Scroll Manifold.
Keep in Mind that it isn't Necessary to Run 2 External Wastegates with a Twinscroll Manifold. You Could use 1 External Wastegate on one side of the Divider, The Wastegate is on the Holsest are only Removing Air Pressure from 1 Scroll of the Turbine Housing From Factory
With all the Said, the Main Reason Why You Would Need a Larger Wastegate or 2 Wastegates is If you Have the Issue Where You Cannot Properly Control Boost. This issue is when Your reach full boost, and Your Wastegate is Wide Open, But Even with the Wastegate Wide Open the Boost Increases Past Your Boost Setting, Meaning that it Cannot Be Controlled Properly. This is Not a Spring issue Because the Wastegate Spring Selection is Based off You The Amount of Boost You Plan to Run. You can Read about Wastegate Spring Selection Here.
Common Wastegate Selections for Applications are:
2.0L or 2.3 liter 4 cylinder GT35r or 6262 or smaller : 38mm External Wastegate
2.0L or 2.3 4 cylinder T67, GT40r, GT42r or similar 44mm External Wastegate
2.5L 6 cylinder GT35R :38mm External Wastegate
v8 with T67 67mm Turbo: (2) 38mm External Wastegate or (1) 44mm or 50mm External Wastegate
Here are some Great Examples of External Wastegate Options that Are Available:
Comments
comments