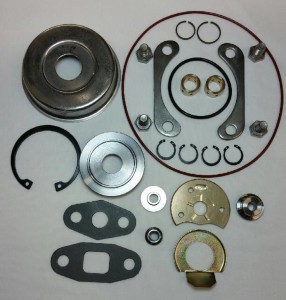 We Now Have For Sale Holset HY35 HX35 HX40 HE341 HE351 Turbo Rebuild Kits!
Here are the Details on the Rebuild Kits that We Offer: 
For Genuine Holset
Includes Heat Shield
Machined From Copper Bar Thrust Bearing
Includes Compressor Housing O-ring (Must Machine Bearing Housing)
Fits Holset HX35 HX35W HX40 HX40W HE341 HE351 HY35
Not for VGT Turbos Such As HE351VE or HY40V
Parts Included:
Front Seal Plate
C-clip for Front Seal Plate
O-ring For Compressor Housing (Bearing Housing Must Be Machined)
O-ring For Front Seal Plate
Oil Deflector
Thrust Collar and Spacer
Front Piston Ring Seal
Rear Piston Ring Seal
4 Bearing Cage C-clips
Exhaust Housing Retaining Plates
4 Bolts for Turbine Housing
OIl Feed Gasket
OIl Return Gasket
Machined From Copper Bar Thrust Bearing
Journal Bearings
Why Buy Our Rebuild Kit?
We Provide a Machined From Copper Bar Thrust Bearing, Other People Provide Powder Bearings
We Provide the Heat shield Other Companies Do Not
We Provide a Compressor Housing O-ring Other Companies Do Not
We Have Competitive Pricing!
The Biggest Problem With Buying Aftermarket Holset Kits Is that The Oil Feed Holes in the Thrust Bearing Are Not The Same Size as the Genuine Holset Rebuild Kits! We Provide The Solution, Buy Our OEM Kits and Save Yourself the Trouble of Having a Thrust Bearing Failure!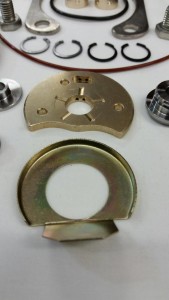 Watch This Video To Learn How To Rebuild Your Holset Turbo!