2.5″ 3″ 4″ Inch Boost Leak Tester 240sx, WRX, DSM, SRT4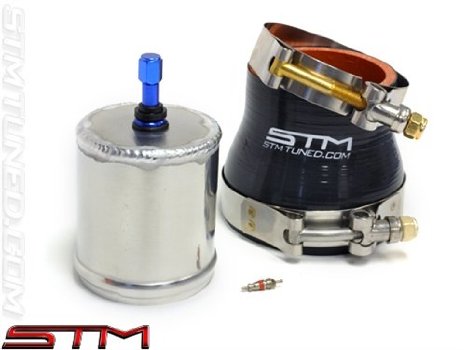 Here Are Some Great Boost Leak Testers That you can Buy. If your Turbo Car Lacks Horsepower, then It is very Likely that You Have a Leak that You Cannot See. In Fact all of Your Couplers could Also Be Tight Too! Here are 2.5″, 3″, 4″ Testers From Right To Left
Common Leaks That You Cannot See Are Often Found In Conditions Like:
Corroded Intercooler Pipe
Corroded Intercooler (Common for DSM)
Not Properly Sealed Intercooler Core. ( I saw this on a New Jeep Liberty Turbo Diesel Once)
Leaking Blow Off Valve (Common with Greedy, Blitz, and Factory BOV)
Holes in Vacuum Lines
Broken Seal Intake Manifold Gaskets
Dry Rotted Fuel Injector Seals
Steps Too Boost Leak Testing Your Car:
Install Boost Leak Tester On TurboCharger Inlet
Fill Up Boost Leak Tester Tire Valve With Air Chuck Until You Reach Your Boost Level (25 psi+)
Spray Soapy Water All Over Charge Pipes, Vacuum Lines, and Where Every Boost May Go.
Search For Bubbles to find Leaks
 Learn How to Do a Boost Leak Test Here.
Comments
comments